For Android: AE Inventory App
Mobile data collection in field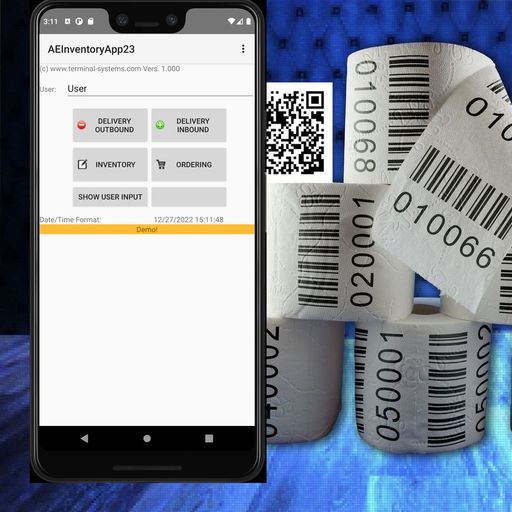 This app is designed for data capturing in inventory, stocks, shops and all places where goods / products and articles shall be managed! It uses your standard smartphone as device and supports barcode scan (with the internal camera), fast input and easy using directly at the place where the goods are!
AE Inventory App for your Smartphone:
Mobile data capturing of good movement, barcode and more!
⊕   App for good movement, inventory and more
⊕   Supports delivering IN / OUT, inventory, ordering - more at request
⊕   User input for article and value
⊕   Additonal free input eg. for invoice
⊕   With location information for every item
⊕   Automatic save together with date / time stamp und user information
⊕   Supports barcode and QR code input and code scanning
⊕   Uses internal camera from your device as barcode scanner
⊕   Data format Excel XLS CSV, for further processement with Office Excel, SQL or additional software packages
⊕   Supports upload article / item list with additionaly information e.g. location, current value
⊕   Artikel list information with be shown during input
⊕   Data transfer via USB cable, WiFi FTP transfer or cloud
⊕   App for Android devices
⊕   Download from Google Play Store or from our website
⊕   Enble free version with license code
⊕   Simple using
⊕   Language version depending on your smartphone, english/german available, further on request
This is how it works - picture information and screenshots
Input data saved with date / time / user automatically. Data format is Excel XLS CSV text format - for easy further processing in office / management software or SQL databases.
Settings menu. Specify possible additive inputs e.g. up to 2 additional inputs for every item record.
AE Inventory App
Mobile data capturing app for Android smartphones.
Download and try our FREE test version!